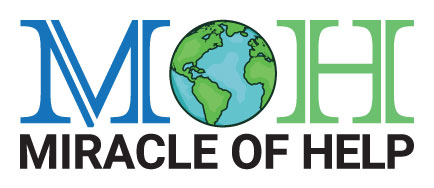 Remember the sensation of sledding downhill and gaining momentum as you went? That's what has been happening with MOH this year! One project led to another, so we now have programs to combat both severe and moderate malnutrition, and we are installing wells in six villages. This is in addition to our monthly health clinics, where we are treating almost 300 people in three days with two doctors and two lab techs, mostly for malaria, typhoid, infections, and gynecological problems.
Our re-feeding programs for malnourished children are going extremely well, thanks to Dr. Yusupha Dibba, the Director of Primary Care for Partners in Health, Sierra Leone. He made it possible for us to obtain Project Peanut Butter, a product in a pouch that is nutritionally balanced and easy to digest. Thus far, we have taken 25 children out of both Severe and Moderate Acute Malnutrition.
GRATEFUL MOMS WITH RENOURISHED CHILDREN.
(THE SIGNS WERE TRANSLATED FROM THE MENDE BY MOH STAFFERS.)
Wells have become our issue of the moment, because in trying to bring health care to people, the paramount importance of clean water becomes clear. (As we would like their water to be!) The frequent recurrences of intestinal diseases due to lack of clean water alarmed the care providers from our pop-up clinics, which spurred us to take action.
Thanks to MOH and the New Hope Foundation, which generously funded this Clean Water Project, Ngolahun and its nearby villages (Baaka, Bunumbuwolo, Mamboma, Njala, and Tagbama) are all in the process of building new wells, made possible by the tools, materials, and expertise we provide. The well set-up features a storage tank, solar-powered pump, and spigot, so older people and children can get clean water easily. We expect these projects to be accomplished by mid-March.
The people of the village of Diema, which is the home of both the Permanent Secretary of the Ministry of Health and Sanitation and the Chief Medical Officer, asked for our assistance in installing a well. That project is underway also.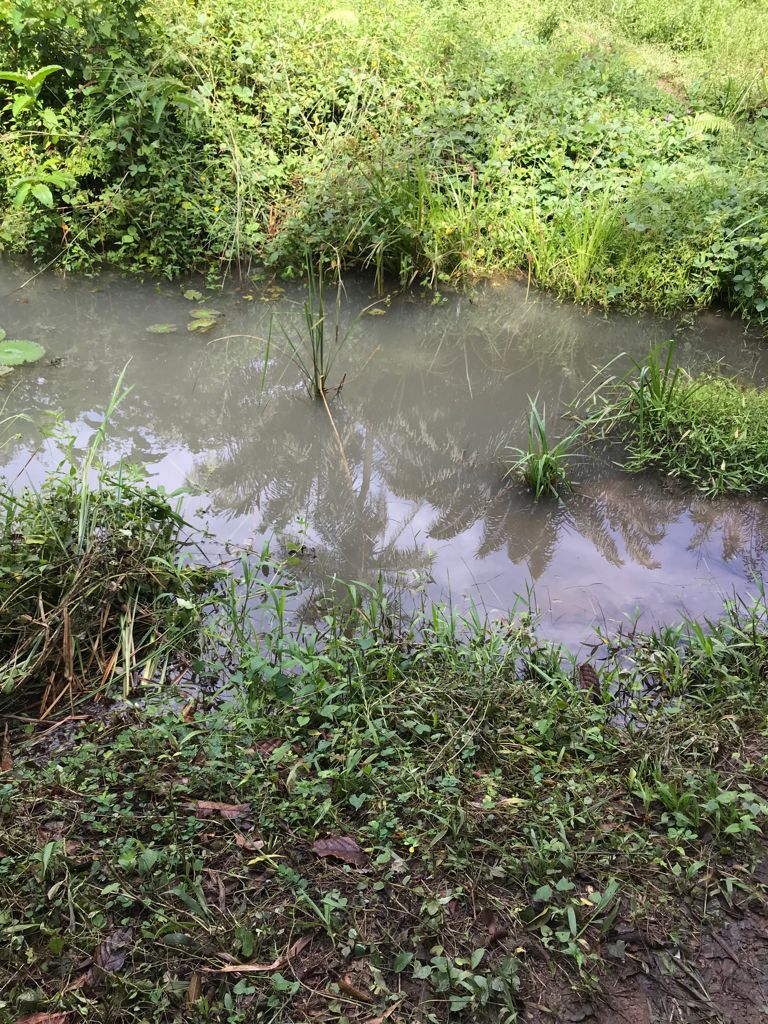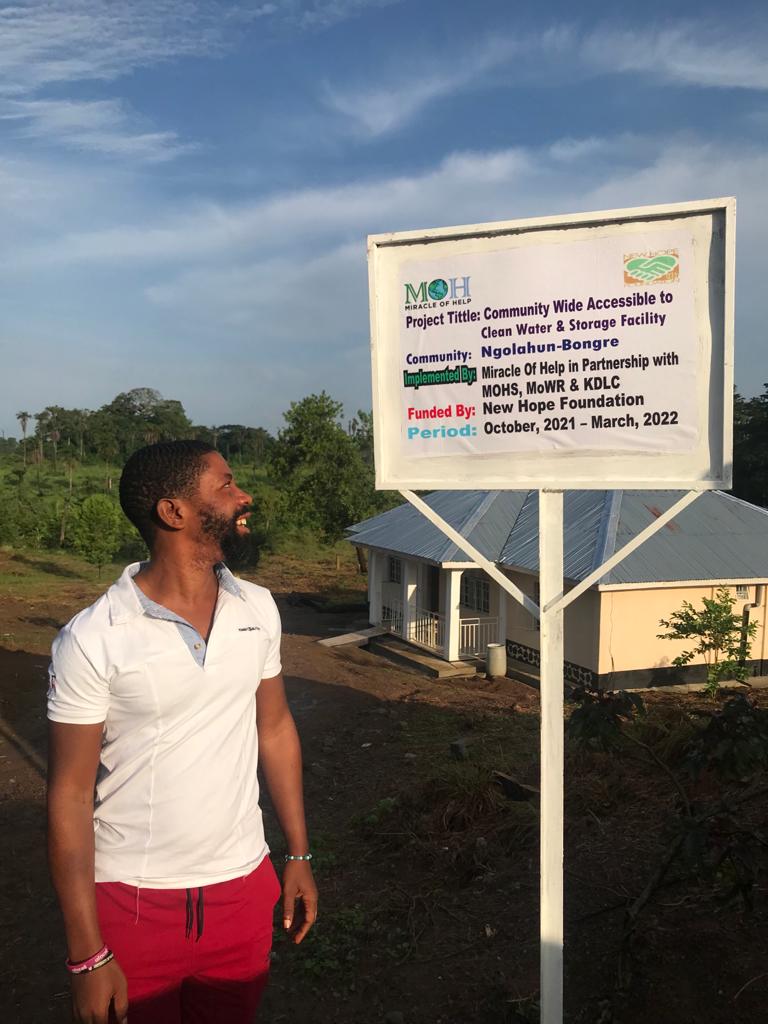 CURRENT WATER SOURCE IN BAAKA;
MOH COUNTRY DIRECTOR MUSA GANGHA WITH A SIGN ANNOUNCING THE CLEAN WATER PROJECT AND ITS FUNDING BY THE NEW HOPE FOUNDATION.
THAT'S THE NEWLY-BUILT NGOLAHUN GUEST HOUSE IN THE BACKGROUND!
Dr. Risa Gold, accompanied by Ms. Maia Gomis, had an extremely successful trip to Sierra Leone in November, meeting with government officials, and visiting the new wells in progress in all six villages participating in the Clean Water Project. We have just signed a Memorandum of Understanding with the Ministry of Health and Sanitation, formalizing our relationship with the SL Government, and ensuring the continued success of the hospital, once built.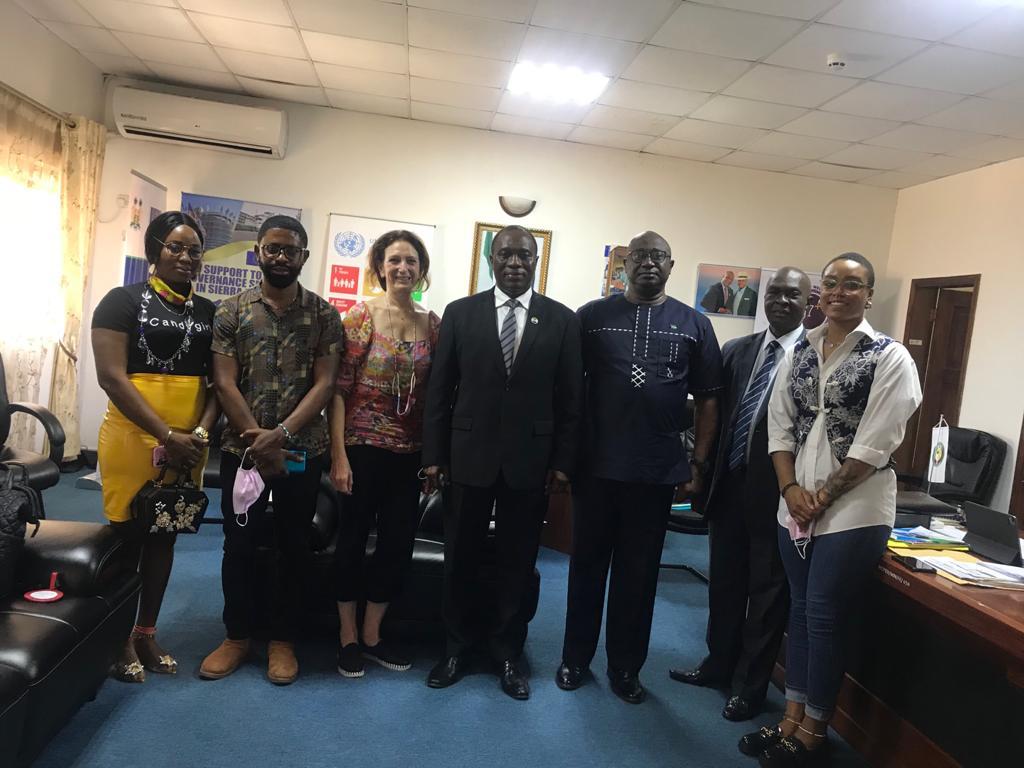 THE MOH TEAM WITH MINISTER KAIKAI (center), WHOM WE HAVE KNOWN SINCE HE WAS THE SL AMBASSADOR TO THE UN.
WE ARE GRATEFUL FOR HIS SUPPORT OVER THE YEARS. HE IS NOW HEAD OF THE SL MINISTRY OF PLANNING AND ECONOMIC DEVELOPMENT.
Two unused factories in the village of Mamboma, only a mile and a half from Ngolahun, have been donated to MOH for a Skills Training Center. One is a soap factory, which we plan to re-start. This will give crucial skills training and an employment opportunity to the 25 indigent women whose children are graduates of our malnutrition clinics. We will provide training so the business can be sustainable and provide an income stream for the hospital. Our generous donor, David Miller of ClassAct Harvard-Radcliffe (HRX8), will be spearheading the effort to revive the business.
RISA AND MAIA ABOUT TO EMBARK ON A TRIP WITH MOH STAFFER ANDREW TO TAGBAMA!
A VILLAGE COMPRISING ONLY 157 PEOPLE, THERE ARE NO ROADS ACCESSIBLE BY CAR, SO NO AID WORKERS HAVE BEEN THERE SINCE THE END OF THE CIVIL WAR, 20 YEARS AGO.
NEW HOPE FOUNDATION AND MOH
ARE PROVIDING THEIR FIRST WEL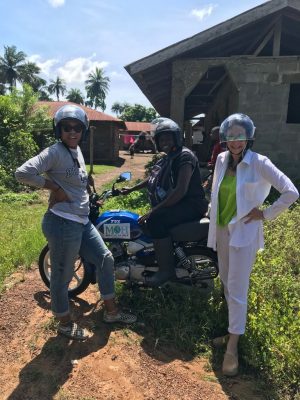 We are also proud of the fact that we have thus far vaccinated 800 people against COVID!
Future events: MOH is sponsoring an agricultural expert, Peter Ash, to visit Ngolahun in February, and again in April (after he spends the interim helping people in Kenya) to teach the local farmers organic and sustainable farming methods. An organic certification will enable the villagers to obtain higher prices for their crops. Dr. Raphael Shapiro, a surgeon, will bring a team of three experts to teach advanced surgical techniques at Nixon Hospital in Kailahun to SL doctors. The guest house in Ngolahun is complete and ready for these visiting doctors and other health providers. All the doors, beds, and windows were made in the MOH Ngolahun woodshop!
The Sierra Leone board is forming, and we are excited about the people who have agreed to serve on it. Yasmin Yusu-Sherriff, an Oxford educated human rights lawyer, and Reverend Father Peter Konteh, the Director of Caritas, the charitable arm of the Catholic Church in SL, will both join the board. (He is also the vice-chair of Caritas in Africa, and was honored last April by the SL Government for 25 years of humanitarian service.) We are thrilled that they are interested in being involved.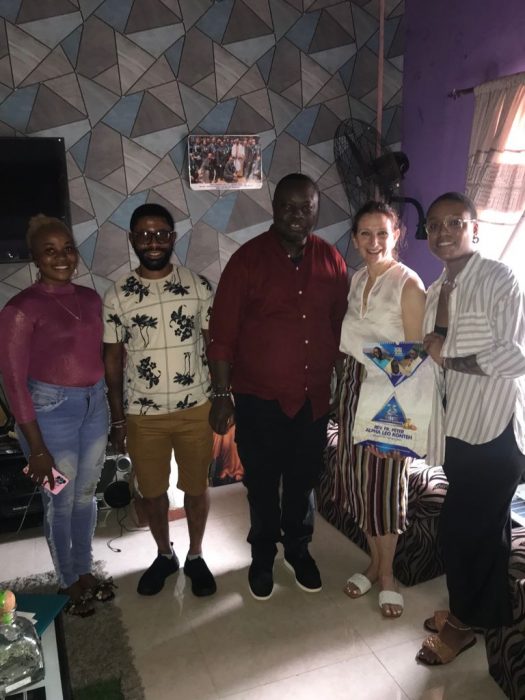 MOH STAFFERS ISATA and MUSA, REVEREND FATHER PETER KONTEH, RISA, AND MAIA
We could not do this without our generous donors and people who have helped us with expertise and tangible support. We would like to thank all of our donors previously mentioned, and the ones too numerous to name, as well as an anonymous board member who matched our $25,000 fund-raiser proceeds and has also funded operating expenses in SL. A spotlight on donors of MOH scholarships, training people who will provide reliable staffing for the hospital: The James Stetson Boal and Mark Solomon Boal Scholarship Fund, founded by Jane Martin, is funding education for three of the MOH staffers. Nurse Margaret will become a State Registered Nurse (a step above an RN), Idriss is to be a Community Health Officer, (GP), and Mariatu is training as a midwife. Mike Gysek has been making it possible for Musa to earn a Master's Degree in Public Health. We would also like to establish scholarships for degrees in Hospital Administration and Business.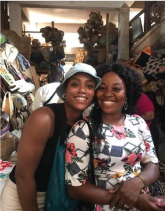 THERE WAS TIME FOR A LITTLE SHOPPING IN THE MARKET IN KENEMA!
Our Miracle Helper of the Year is New Hope Foundation, which is supporting the MOH wells, and has also pledged an ambulance and support for the construction of the new hospital.
For more pictures and information, please visit our website, Miracleofhelp.org.
The website will have a link to an article about Dr. Gold by Jean Daniels in Cove Living, a Long Island magazine, to be published in February!
Thank you all so much for any help you can give.
Sincerely, the MOH Board.
Risa Gold, MD, DLFAPA, President
Patti Moss Vernam, Vice President
Lauren Piazza-Eliash, Treasurer
Maia Gomis, Secretary
Richard Stein
Stefanie Soichet
Antonella Sturniola
Jon Hess
Geoffrey Bell
Josh French
Jana Koerner-Safrata
Nancy Lippman Israeli, MD, FAAP
James Arena-Derosa
Nicole Hosseini
Clare LoCicero
Barbara Kirwin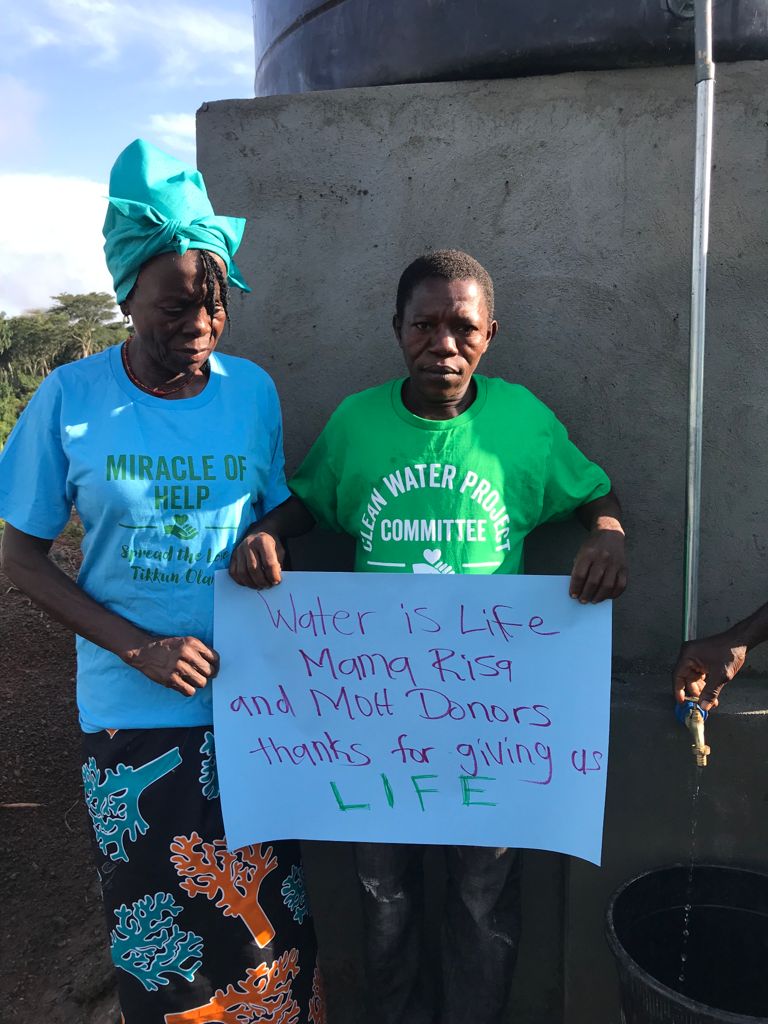 "I tell my students, 'When you get these jobs that you have been so brilliantly trained for, just
remember that your real job is that if you are free, you need to free somebody else.'"
Toni Morrison, O Magazine, 2003
FEED TWENTY MALNOURISHED CHILDREN FOR THREE MONTHS FOR $1,000!
117 Main St. Cold Spring Harbor, NY 11724